Product Compatibility
• Compatible with Win XP, Vista, 7
•
Stream Up to 4 Cameras at Once
• Internet connection required to
remote view video over internet
With our internet-streaming nanny cams, you can set your camera up in your home or business, and view your live video feed anywhere in the world - even on your smartphone.
Once you've got your camera set up, simply log in from any internet-connected computer or smartphone using any standard web browser (using the username and password you set up), and you can instantly view your live video feed.
Using the included software you can also record the video from your nanny cam directly to your computer's hard drive, so even if you don't have time to view the live feed, you can still go back later to view everything that was going on.
Our lastest cameras now support "Quad View", meaning you can stream, view, and even record up to 4 camera feeds at once.
In addition to the internet-streaming of this nanny cam, we also offer a self-recording alarm clock camera that records your video to a memory card which can be later viewed on your computer.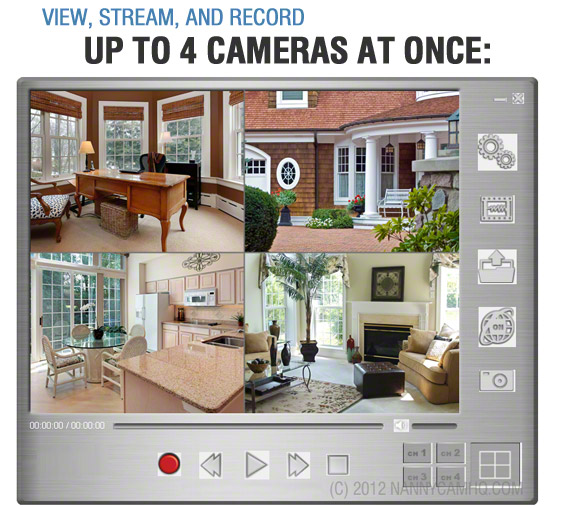 Popular Uses:
Parents - Monitor your children or your babysitter while you're at work or on the go
Employers - Keep track of employees and make sure they're working and not leaving early
Retail Stores - Help protect against both internal theft and external theft
Homeowners - Monitor your home and protect against theft and burglary
Private Investigators and Law Enforcement - Discreetly gather the important evidence you need

Features and Benefits: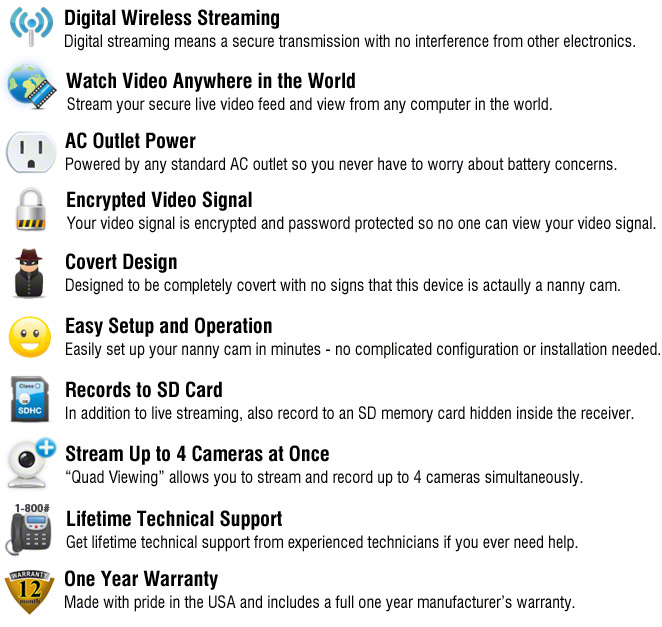 Mix and Match Up to 4 Total Cameras (Optional):
Because the included receiver supports "Quad View", you can view up to 4 total camera streams at once. The following are the additional cameras you can mix and match and stream all through the one receiver. The additional cameras all connect to the same receiver. Click on a camera to learn more about that specific model:
Included in the Box:
Internet Streaming Hidden Camera
Wireless USB Reciever
Instruction Manual
RCA Connection Cable
Lifetime Tech Support
1 Year Warranty